In our Data Stories Project we are turning ocean research in science, economics, psychology, and other fields into engaging content that serve as a storytelling tool both for the institutions that produce the research and for other ocean advocates looking to tell ocean stories.
This project has two aims.
The first aim is to provide tools to help researcher institutes put their research into context through storytelling in order to engage with supporters, potential donors, and the public more effectively.
The second aim is to translate data into a format that can be used by a wide variety of ocean advocates to tell their stories better.
In the first phase of our partnerships we work closely with the data collectors to make sure that the media that we create fits their outreach needs and is an accurate representation of the research. After the media is complete, we turn our attention to making this resource available to ocean advocates. By sharing the resources across various groups of ocean advocates we hope to build a community of storytellers who can share their successful ocean stories, talk about the best ways to use the resources, and encourage each other to continue to tell creative ocean stories.
Our first installment of the Data Stories Project is a partnership with the National Ocean Economics Program at the Middlebury Institute of International Studies in Monterey, CA to bring some of their Blue Economy research to life through animated infographics, AKA videographics. In these simple videographics we highlighted some staggering statistics about parts of the U.S. economy that are at risk because of sea level rise. Through these simple videographics we aim to make this the data on the economic threats of sea level rise more accessible and easier to communicate.
Visit our campaign page to learn more and download these videographics: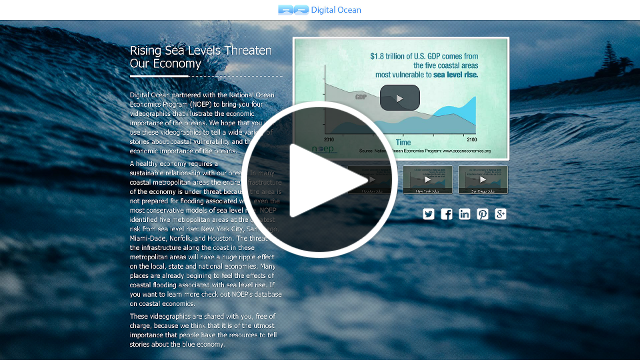 We are looking for partners who have data that is aching for a story. If this sounds like you, we would love to hear from you and talk about ways that we could work together.
Thank you for reaching out! We will get back to you as soon as possible.
Oops! Looks like something went wrong.